Ahoy Benchmade 42 fans! Any serious Benchmade fan knows that Benchmade makes some outstanding custom knife caliber "Gold Class" models. These "Gold Class" series knives are often upgraded versions of some of their more popular models. The Benchmade 51 got a gold class upgrade and now the time has finally come for the Benchmade 42 to get the gold class treatment!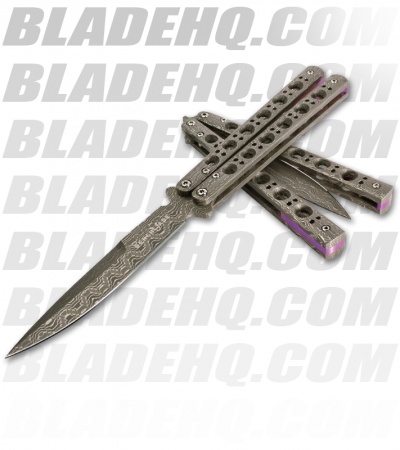 Behold: The Benchmade Gold Class 42! The knife is due out later this month and product is limited to only 100 pieces. Here's some info about this amazing knife:
This Benchmade 42 Gold Class knife sports an etched Rob Thomas Reptillian Damascus blade and handles. The classic weehawk blade has a hand convexed and polished edge as well as a crowned spine. The handles are latchless with blended anodized titanium backspacers. The 42-101 includes a custom Ted Blocker leather and ray skin dual position half sheath. This is a limited run of 100 knives from Benchmade.
Specifications:
Overall Length: 9.4″
Blade Length: 4.20″
Blade Thickness: 0.125″
Closed Length: 5.54″
Handle Thickness: 0.53″
Weight: 5.68 oz.
Forums are abuzz about this knife for several reasons. Instead of being a channel butterfly knife it's a sandwich style model. And of course the omission of a latch leaves the fans of the 42's incredible spring latch a little disheartened. The beautiful Damascus blade and handles is a siren song to many, but a turn off for others (the word "overkill" has been tossed around). Some love the colored spacer and it provokes rebellion and thoughts of suicide in others (people take this knife very seriously). Love it or hate it, it's a departure from the classic 42 design. However, after speaking with several of our sorces we've confirmed that at least a few shops are already sold out of their allotments! These knives, like most Benchmade gold class products, will probably have a place in many butterfly knife collections ans the undisputed centerpiece.
Resources: Benchmade Butterfly Knives, Benchmade Balisongs, Benchmade 42, Benchmade 51, Benchmade 32, Benchmade 53, Benchmade 42 gold class.