New Update!
Benchmade has now publicly released the stats on the new model 62. Who's excited? We are! Here's all the available info from Benchmade:
Benchmade announces the Model 62 Balisong Knife for 2012! The BM 62 knife features a D2 Tool steel Weehawk blade with razor sharpness. The handles are skeletonized to reduce weight and sport a polished stainless steel finish. Sandwich style construction with stainless steel back spacers. The 62 Bali also features Zen pins and the classic T latch to secure the knife open and closed. Made in the USA.
• Practical Weehawk Blade Shape
• Skeletonized Handles
• T Latch for Easy Open
• Unparalleled Benchmade Fit and Finish
Specifications:
Blade Length: 4.25" (10.8cm)
Blade Thickness: 0.127" (3.17mm)
Open: 9.20" (23.4cm)
Closed: 5.27" (13.4cm)
Weight: 6.39oz (181.15g)
Sheath Weight: 0.64oz (18.0g)
Handle Thickness: 0.48" (12.40mm)
---
Today on their Facebook page Benchmade announced their newest balisong model: the Benchmade 62.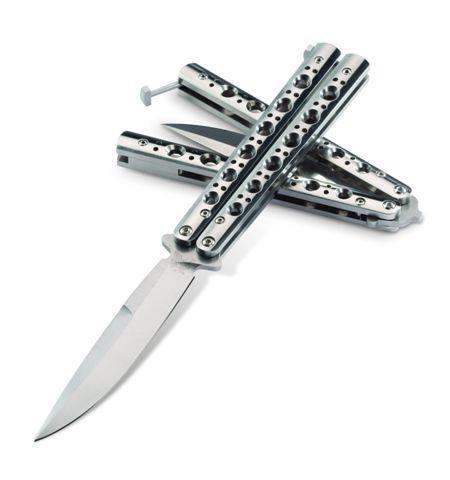 Not much is known about this knife yet. Supposedly it's made form stainless steel and should be roughly the same size as the old Benchmade 42.  From the pictures it's clear that it's sandwich construction and retains the zen pins from the 42 design. No word on the actual specifications at this point, but as soon as more info is available we'll post it here.
-B42